Ronaldo scores winner as Real Madrid win Club World Cup | Match Report.
Cristiano Ronaldo scored his seventh Club World Cup goal
By BBC Sport
Real Madrid became the first team to win back-to-back Club World Cup titles as Cristiano Ronaldo's second-half free-kick beat Brazilian side Gremio.
Zinedine Zidane's side dominated from the start but found chances difficult against well-organised opposition.
But Ronaldo got the breakthrough with a well-struck effort from 25 yards.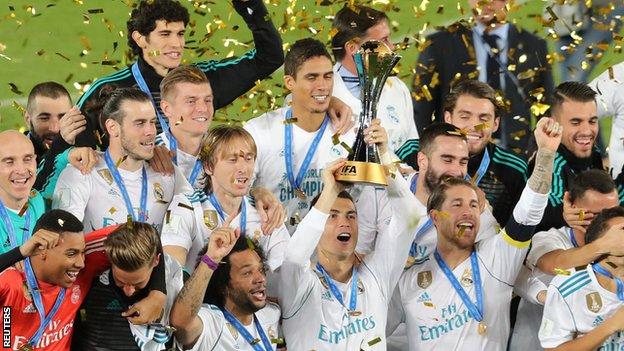 Real Madrid have enjoyed their most successful year in 2017, winning five trophies
It is a record-equalling third Club World Cup win for Real, who also triumphed in 2014, matching Barcelona's achievement.
Real have now won five trophies in 2017 - the Champions League, La Liga, Uefa Super Cup, Spanish Super Cup and now the Club World Cup.
It takes their overall total under Zidane to eight since the former France international's appointment in January 2016.